Cricket Club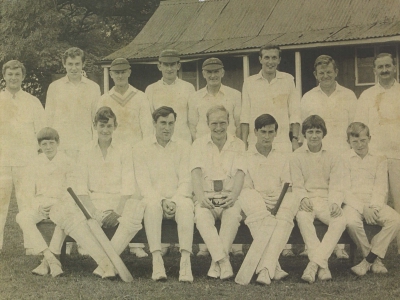 The cricket club in 1967
Ingleby Greenhow Cricket Club play at the cricket field is just outside the village, on the Ingleby to Broughton road. The ground enjoys views of Roseberry Topping and Captain Cook's Monument. It once famously featured in a calendar comprising England's most picturesque cricket pitches. It certainly is an idyllic place for spectators to while away a summer's afternoon.
The club's history dates back to the mid nineteenth century. Its archives are in the care of Arthur Fawcett, and the earliest existing newspaper reference is to a match against Swainby in 1843. There have been many victories along the way, but the odd embarrassment - Chop Gate bowled them out for 0 in 1896! The club played for many years in the grounds of Ingleby Manor, before moving to its present site some time after World War II.
You may recognise some faces from the 1967 team on the right!
Ingleby currently play in the Langbaurgh League. For 2016 fixtures click here
100 CLUB MONTHLY DRAW
£1.00 per month / £6.00 for six months
Drawn on last Saturday of each month for 6 months, first draw Saturday 28th May 2016
Please contact AV Fawcett or any club members for more details